flat LED back light driving method illumination
Next generation technology
that only Opto Design, which explores
"Light"
accumulating experience and achievement, can realize.
The UniBrite enables a very uniform flat illumination using Flatter even if high-brightness LED's are located more than every 100mm distance.
※ * Flatter is a name of new optical device, that Opto Design has developed, converting the point light emitted from a LED to a surface emitter.
In the past, the immediate converting the point light emitted from a LED to a surface emitted is being required.
At that time, some trial-and-error process by using lens and diffuser plate to control the LED were done.
However, most methods did not work.
The UniBrite Flatter is an innovative technology enabling the use of a minimum number of high-brightness LED's to produce a very uniform and bright light source.
Features
Enable high uniformity (90% or more: measured by Opto Design) flat panel illumination with arrayed "Flatter".
Enable high illuminance flat panel illumination and secure enough luminous energy with LED back light driving method.
Enable to locate LED's with more than every 100mm distance. Thus, high heat radiation is possible and the LED lifetime can be much longer.
Enable any shapes of the Flatter design like square, rectangle, polygon or round. Then enable to deal with any design shape as you like.
Enable to transfer strong light of LED to environmentally friendly soft lighting.
Enable simple structure and light-weight products because of no lens and light-guiding plate.
Merits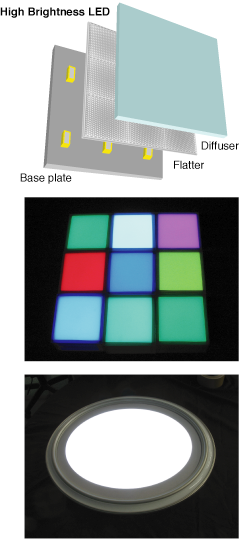 [Long lifetime and needless maintenance]
Long lifetime because LED source is used. No need to exchange the source.
Suitable for the light source that is installed at the higher location where can not be reached.
[energy-saving]
The high transferring efficiency from the point light emitted to a surface emitter enables the use of a minimum number of LED's and secure enough brightness.
Thus, more energy-saving can be realized compared with fluorescent light.
[Various types of LED]
Various types of LED, that have any light distribution angle, wavelength, colour temperature and so on, can be applicable.
[No limit for size]
Any size available. The surface more than 200 square inches can be manufactured.
[Light-weight]
Light-weight due to less number of LED, diffuser and prism sheet devices.
Flat Panel Display
LCD/Automobile Display/Large Display for outdoor
Advertisement/Amusement
Transmissive Signboard/Stage Lighting/
Amusement instrument
Automobile
Tail Lamp/Interior lighting
Traffic system
Traffic Sign/Mimic Board/Display and timetable in a station/Destination board in a train/Lighting in an airplane
Construction/Lightning
Wall Lighting/Interior Lighting/Table Lighting/Design Lighting
Medical
shadowless light/Schaukasten
Distribution
Refrigerator light/Showcase light
Agriculture/Industrial
cultivation light/Inspection light in a factory
information
Pure Glass Light
Collaboration of UniBrite and Stained glass